About Us
Dino's Too is a Fish & Chips takeaway in Ayrshire. Why don't you try our Topping or Half Chicken?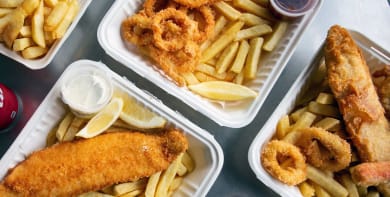 Reviews
386 reviews
Liz
"Food was lovely except for macaroni cheese. It was far too salty but nice sauce and lots of macaroni there."
19/02/2021
George
"Pizza crunch had no crunch and was quite greasy. Ordered jubilees expecting red kola jubilees (cause that's what it's always been) and I got cheap normal cola ones!"
17/02/2021
Jane
"Great service and lovely food would recommend"
13/02/2021
Joe
"Never been let down by Dino 2 - food excellent service spot on"
13/02/2021
Menu
Diet Coca-Cola 500ml Bottle
£1.50
Fanta Orange 500ml Bottle
£1.50
Curries Red Kola 330ml Bottle
£0.60
Curries Lemonade - 330ml Bottle
£0.60
Topping Piri Piri Chicken
Ben & Jerry's Chocolate Fudge Brownie
Ben & Jerry's Cookie Dough
Homemade Steak Pie Single
£4.10
Homemade Steak Pie Supper
£5.20
Mixed Grill
(1 Sausage, 1 lorne sausage, 1 hamburger, 1 haggis or black pud fritter, 4 onion rings and chips
£6.95
Munchy Box
(4 Onions Rings, 4 Scampi, 4 Chicken Nuggets, Portion Chips *Change Any Item For 1/4 Pizza Crunch*)
£4.50
Home Made Cajun Chicken Pasta Single
£3.80
Home Made Cajun Chicken Pasta Supper
£4.70
Salad Box Small
(Includes Tuna Mayo Pasta, Chicken Mayo Pasta, Cajun Chicken Pasta, Side Salad & Cheese)
£2.50
Salad Box Large
(Includes Tuna Mayo Pasta, Chicken Mayo Pasta, Cajun Chicken Pasta, Side Salad & Cheese)
£3.50
Chicken Breast Strips Single
£3.70
Chicken Breast Strips Supper
£4.70
Dressed Fish Mini (1) Single
£3.70
Dressed Fish Mini (1) Supper
£5.00
Mixed Grill Box
1 Sausage
1 Hamburger
1 Lorne sausage
1 Black pudding or haggis fritter
1 Portion chips
1 Portion onion rings
£6.95
Kids Quarter Pizza Crunch
£3.50
Chips, Cheese & Curry Sauce
£4.00
100ml Strawberry Cheesecake
£2.20
500ml Chocolate Fudge Brownie
£5.95
Contact Us
Find Us
80 Main Road, Ayrshire, KA80LJ
We deliver to
KA6, KA7, KA8, KA9