About Us
Dino's Too is a Fish & Chips takeaway in Ayrshire. Why don't you try our Topping or Half Chicken?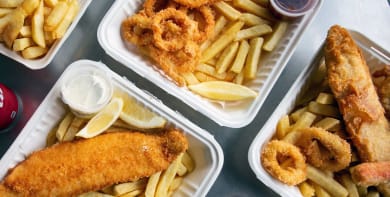 Reviews
410 reviews
Brian
"Great service, delivery was superb and the food was delicious. Thank you!"
19/04/2021
Nathan
"Absolutely amazing. By far the best chippy in ayr!!"
17/04/2021
Lorna
"Will Be Back,,,Definitely"
17/04/2021
Kevin
"Outstanding all round thanks again"
16/04/2021
Menu
Diet Coca-Cola 500ml Bottle
£1.50
Fanta Orange 500ml Bottle
£1.50
Curries Red Kola 330ml Bottle
£0.60
Curries Lemonade - 330ml Bottle
£0.60
Topping Piri Piri Chicken
Ben & Jerry's Chocolate Fudge Brownie
Ben & Jerry's Cookie Dough
Homemade Steak Pie Single
£4.30
Homemade Steak Pie Supper
£5.40
Mixed Grill
(1 Sausage, 1 lorne sausage, 1 hamburger, 1 haggis or black pud fritter, 4 onion rings and chips
£7.15
Munchy Box
(4 Onions Rings, 4 Scampi, 4 Chicken Nuggets, Portion Chips *Change Any Item For 1/4 Pizza Crunch*)
£4.70
Salad Box Small
(Includes Tuna Mayo Pasta, Chicken Mayo Pasta, Cajun Chicken Pasta, Side Salad & Cheese)
£2.70
Salad Box Large
(Includes Tuna Mayo Pasta, Chicken Mayo Pasta, Cajun Chicken Pasta, Side Salad & Cheese)
£3.70
Chicken Breast Strips Single
£3.90
Chicken Breast Strips Supper
£4.90
Dressed Fish Mini (1) Single
£3.90
Dressed Fish Mini (1) Supper
£5.20
Mixed Grill Box
1 Sausage
1 Hamburger
1 Lorne sausage
1 Black pudding or haggis fritter
1 Portion chips
1 Portion onion rings
£7.15
Kids Quarter Pizza Crunch
£3.70
Chips, Cheese & Curry Sauce
£4.20
100ml Strawberry Cheesecake
£2.20
500ml Chocolate Fudge Brownie
£5.95
Contact Us
Find Us
80 Main Road, Ayrshire, KA80LJ
We deliver to
KA6, KA7, KA8, KA9